Jazz for heart and soul .   .   . 
"God gave us music that we might pray without words" 
                                                                                - quote outside an opera house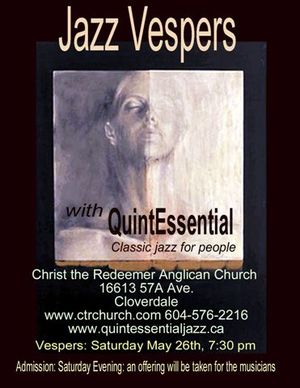 In addition to playing for parties, events, festivals and many other kinds of performances, Quintessential  has enjoyed  opportunities to explore the spiritual relationship between music and the heart & soul.  We recognize that music is a wonderful and amazing gift.   Jazz, which has improvisation at its core, is a way of exploring "in the moment" the power of creativity.  As jazz musicians, we find expressing the creative impulse to be a transcendent experience that causes us to connect in a deeper way with the Creator of all things.  We have enjoyed participating in a number of events that have been designed to invite others into this creative spiritual experience.  Both players and listeners alike have found events such as jazz vespers to be meaningful moments in exploring their faith journeys. 

Contact us if you would like to explore hosting a "heart and soul" event.